The Home of Classic Characters, is one of the country's leading character soft toy and nursery companies and the name behind an abundance of high profile nursery plush collections including Peter Rabbit, Guess How Much I Love You, Winnie the Pooh and The Very Hungry Caterpillar.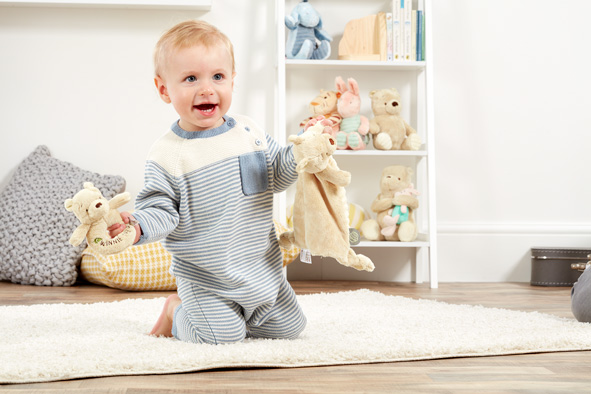 Rainbow's award-winning Disney Classic Winnie the Pooh collection, inspired by A.A Milne's Tales from One Hundred Acre Wood, features a gorgeous array of nursery plush toys and essentials. This summer will see some beautiful new additions to this stunning collection including Winnie the Pooh Booties, a Winnie the Pooh Jiggle Toy and the super soft Lullaby Winnie the Pooh and Piglet Toy. Also available is the new Gift Set which is perfect for newborns, includes both the baby soft plush Winnie the Pooh Ring Rattle and Comfort Blanket.
The new Tiny and Very Hungry Caterpillar Collection, based on Eric Carle's wonderful and hugely successful picture books features a beautiful selection of plush products crafted specifically for the newborn to 18 months age range.  Gorgeous new plush toys include a wooden and plush Ring Rattle, colourful apple-shaped Comfort Blanket and textured Jiggle Attachable Toy. Also new are plush Booties presented in a gift box, a developmental Activity Spiral, and a fun-packed Activity Toy for sensory play.